---
This is a small collection of paintings and prints by Douglas Alvord. They come from our family and from the artist- special treasures, some of which are now on the market, some for the first time. Douglas Alvord is my brother. He is a well-known artist, illustrator, sculptor and author whose works can be found world-wide. He specializes in Marine Art and Nature studies.
PLEASE NOTE- THE COPYRIGHT SYMBOLS ARE NOT ON THE ORIGINALS. ALL IMAGES ARE PROPERTY OF DOUGLAS ALVORD AND CANNOT BE REPRODUCED.
UPDATE: Douglas is in the process of creating a new , major sculpture that is:
"A Memorial to the Victims and Survivors of World War II U-Boat Attacks
in the Waters off the Outer Banks of North Carolina".
To read more about this wonderful project and make a contribution, please go here: http://thebrave.hatterasdesigns.net/index.html
Click on the small images below to see a larger version in a separate window
---
Here are some current works for sale. They are paintings based on scenes from Pamlico Sound in North Carolina.
contact Cynthia Crawford(see below) for more information
---

This is a painting representing New Bern North Carolina. It is a sample of some of his finest marine art. It is not for sale.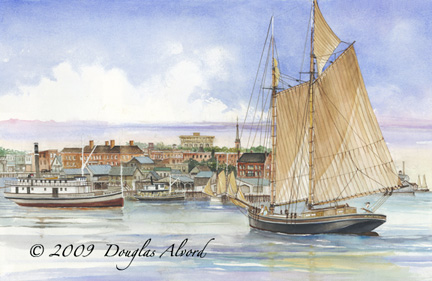 New Bern Historical Harbor
---
---
ABOUT THESE WORKS:
JOYCE MARIE: This painting is of a sardine carrier. These boats were used ca 1940-1980
.WOODEN BOAT SHOW POSTER; 1984 Wooden Boat Show event in Newport, R.I.
The MAine Schooner and The Maine Lobster Boat Prints: These two wonderful prints document the history of these two classic types of boat.
---
If you are interested in inquiring about originals and commissions form Douglas, please contact Douglas here: douglas.alvord@yahoo.com
You will have to look long and hard to find a better Marine Artist!
---
PUBLICATIONS

Douglas has written and illustrated numerous books. Here are a few examples. These are not for sale here. A web search will get you to a source for purchase as some are now out of print.
| | | | | |
| --- | --- | --- | --- | --- |
| SARAH'S BOAT written and illustrated by Douglas Alvord-a wonderful story of a young girl who learns to sail | On The Water- written and illustrated by Douglas Alvord- sub-titleThe Romance and Lore of America's Small Boats | | A White Heron by Sarah Orne Jewett, illustrated by Douglas Alvord-exquisite finely detailed drawing | |

Also see: The Country of the Pointed Firs by Sarah Orne Jewett, illustrated by Douglas Alvord- similar style to White Heron with some color illustrations as well.
---
LINKS: Creative Wilmington-a web page of artists and artisans in Wilmington, N.C.
Creative Wilmington
---
This page was created by Cynthia Crawford, Doug's sister. You can see Cynthia's artwork here