---
This is a small collection of paintings and prints by Douglas Alvord. They come from our family and from the artist- special treasures, some of which are now on the market, some for the first time. Douglas Alvord is a well-known artist, illustrator, sculptor and author whose works can be found world-wide. He specializes in Marine Art and Nature studies.
PLEASE NOTE- . ALL IMAGES ARE PROPERTY OF DOUGLAS ALVORD AND CANNOT BE REPRODUCED.
UPDATE: Douglas is in the process of creating a new , major sculpture:
The Brave Never Die
A Memorial Sculpture in Honor of the
Survivors and Victims of the German U-boat
Attacks off the East Coast of the United States
From January through June of 1943
Douglas Alvord: Artist's Concept and Comments
Honoring our military- soldiers, sailors, marines, aviators – has been a long tradition in American history. From pre-colonial days to the present, across the continent there are monuments dedicated to battles, victorious or lost; to leaders, heroes, or the unknown men and women who fought or served to protect our freedoms, as well as non-military figures celebrated for their contributions to public life.
The nature of these memorials reflect our heritage as well as our need to honor and remember the cost in human lives. In recent times the character of our national monuments has broadened – The Vietnam Wall is not so much about heroes as it is about memorializing the individuals, the thousands who are largely known only to their friends and families, and each a life-story in itself. The politics of that war aside, the importance of the men and women who served in that effort, should be kept sacred.
In the aftermath of World War ll, the most notable memorial was at Pearl Harbor. Many thousands died in that catastrophic event on December 9, "the Day of Infamy".
Yet few people today are aware that in six months in 1942, even more people died, largely civilians, over 5,000, as the result of not a battle, but a Nazi campaign against civilian merchant ships off the East Coast. The aim was to destroy war materials and food headed for Great Britain. The 'collateral damage" was the deaths of innocent civilians and merchant seamen as the torpedoes of "Operation Drumbeat" found their targets.
They lay in their watery graves remembered perhaps by some but unknown and unrecognized by any major memorial or ceremony. ( There are three memorials in existence dedicated to Navy and Merchant Marines, but not directly related to the U-boat period. ) I must admit, even with a background in maritime history, I had little knowledge of these events until it was brought to my attention by North Carolina Historian Kevin Duffus in his book "War Zone", which documents the terrible destruction by the U-boats, practically on our shores.
More should have and could have been done to protect those ships, even though we were not yet in a declared state of war with Germany, but that is the past, and war has always has always taken its toll on both the innocent and the participants. My personal concern is that those five thousand, and those who were able to survive, should and must be accorded the same humanitarian honor and remembrance as those who fought in the war.
I knew that whatever the sculpture was to be, its most important focus had to be a portraiture of those whose lives were suddenly and violently uprooted, to find themselves at the mercy of an often dangerous sea, at night (when most attacks took place) and now must also try to survive in a small lifeboat. This would have been no orderly lifeboat drill either; whoever managed to get into a boat in the precious few minutes before the ship sank, were its crew. Some might have been, and hopefully were, experienced Merchant sailors, but many had never been in a small boat.
It would be necessary then to depict that chaos and what was happening to the people trying to row and navigate away from the wreckage, but at the same time giving them the dignity attendant in their own identities. Theirs was an unbidden act of heroism, each reacted as best they could.
Thus I have chosen to re-create a full-size lifeboat so that the viewer can see each person in detail, not just as a group. And since the power of the sea is now as much their adversary as moments ago the torpedoes were. The boat is broaching a steep wave, which , in the sculpture, will be cantilevered up from the base to give the illusion of its motion
"The Brave Never Die" began as a pencil sketch, then a small clay model, and now exists as a fully -developed large representation of the concept. As I work, I hope to learn more about who I believe these people represent. It will be mounted on a granite base, though not too high – I want the viewer to be able to connect closely with the figures.
Originally it was designed as possibly being placed on the Outer Banks, at Hatteras Island, which is close to where many of the attacks took place. It was discussed with considerable enthusiasm at the Graveyard of the Atlantic Museum staff, and also many interested Island residents, but being as remote as the area is, it was hard to establish a funding program to support it.
The Norfolk Virginia area however, is an appropriate location due to its long association with both maritime and naval history interests. Norfolk is also a major employer of the Merchant Marine. Even though the merchant oil and cargo ships were not armed, nor were the Merchant Marines a combat force, their service and dedication to their duties saved hundreds of not thousands of lives. The Merchant Marines also suffered the largest casualties in WWll, more than the other Armed Forces combined.
Bill Geroux's excellent book, "The Mathews Men" documents both the bravery, and the human stories of the men, many of them Captains and crew of the coastal ships, and notable whole families from Mathews Island who were involved in the attacks by the U-Boats. Even after some were sunk, surviving Merchant Marines often went back for a second or third time, so strong was their legacy of service. I consider Bill's book the prose version of The Brave Never Die memorial sculpture.
Given it's maritime heritage and naval shipyard presence, I believe the Norfolk area would be a fitting location for "The Brave Never Die" At this time I am working with several individual and groups to pursue that possibility.
DOUGLAS ALVORD
Sculptor and Maritime Artist
216 Isabella Avenue
Washington, NC 27889
252-495 – 3597
E-mail: alvord2017@gmail.com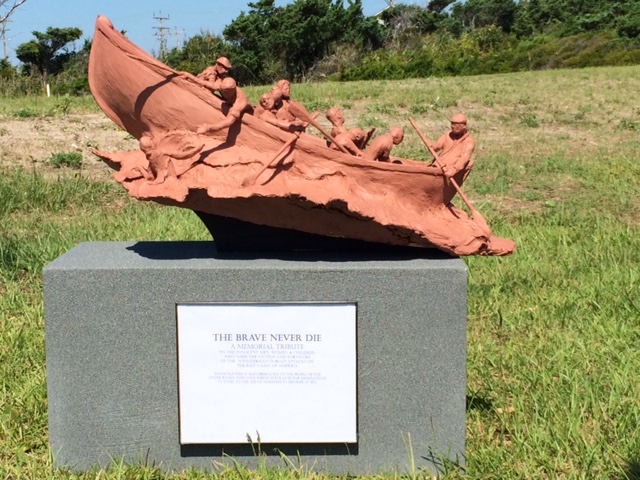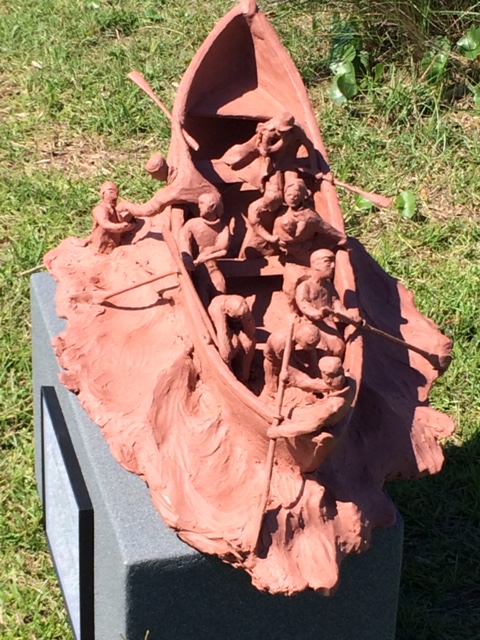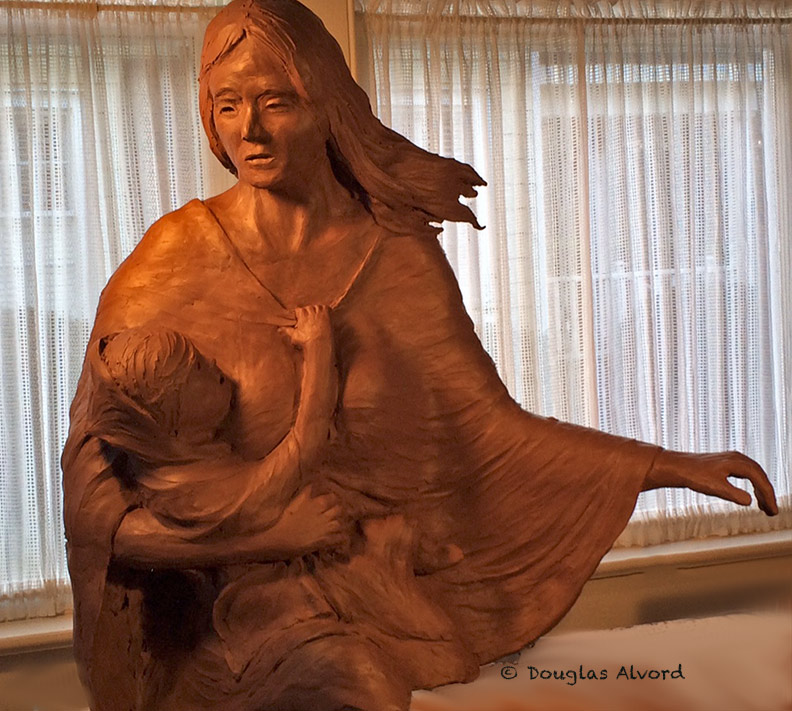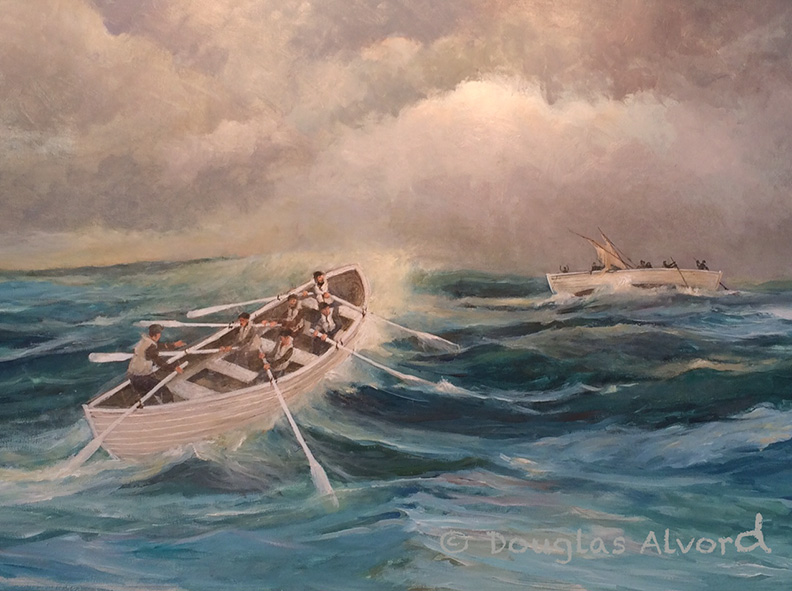 The above painting is for sale. The price is $1,000 plus shipping, handling and insurance. It is 24" x 36" oil painting (unframed).
---
Here are some more examples of Doug's work.
---

This is a painting representing New Bern North Carolina. It is a sample of some of his finest marine art. It is not for sale.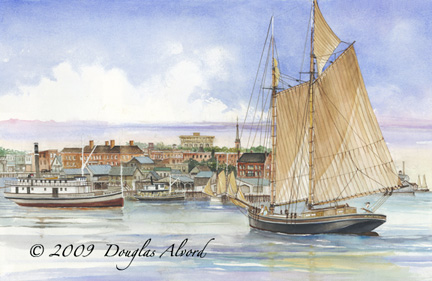 New Bern Historical Harbor
---
---
ABOUT THESE WORKS:
JOYCE MARIE: This painting is of a sardine carrier. These boats were used ca 1940-1980
.WOODEN BOAT SHOW POSTER; 1984 Wooden Boat Show event in Newport, R.I.
The Maine Schooner and The Maine Lobster Boat Prints: These two wonderful prints document the history of these two classic types of boat.
---
If you are interested in inquiring about originals and commissions form Douglas, please contact Douglas at the above address.
You will have to look long and hard to find a better Marine Artist!
---
PUBLICATIONS

Douglas has written and illustrated numerous books. Here are a few examples. These are not for sale here. A web search will get you to a source for purchase as some are now out of print.
| | | | | |
| --- | --- | --- | --- | --- |
| SARAH'S BOAT written and illustrated by Douglas Alvord-a wonderful story of a young girl who learns to sail | On The Water- written and illustrated by Douglas Alvord- sub-titleThe Romance and Lore of America's Small Boats | | A White Heron by Sarah Orne Jewett, illustrated by Douglas Alvord-exquisite finely detailed drawing | |

Also see: The Country of the Pointed Firs by Sarah Orne Jewett, illustrated by Douglas Alvord- similar style to White Heron with some color illustrations as well.
---
LINKS: Creative Wilmington-a web page of artists and artisans in Wilmington, N.C.
Creative Wilmington
---
This page was created by Cynthia Crawford, Doug's sister. You can see Cynthia's artwork here
Save
Save
Save
Save